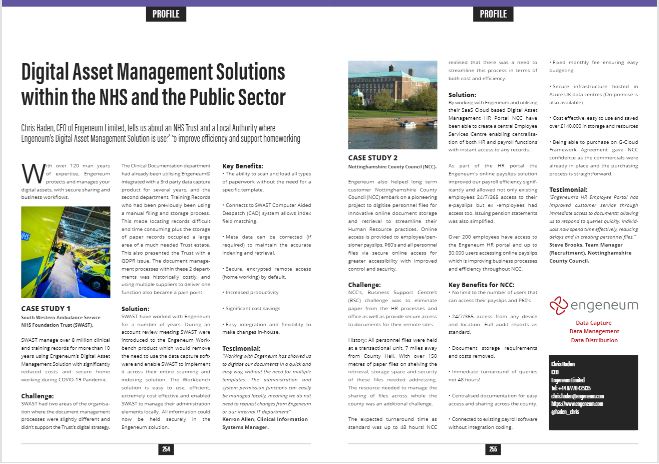 OAG is a digital publication that provides an in-depth perspective on key public policy areas from all around the world, including health and social care, COVID-19, research and innovation, technology, government, environment and energy.
Each quarterly edition features a wide range of prestige contributors, including government ministers, European commissioners, members of European Parliament, industry associations and charities.
Our 2-page feature covers use cases from Engeneum's Digital Asset Management Solutions within the NHS and the Public Sector. Chris Haden, CEO of Engeneum Limited, talks about an NHS Trust and a Local Authority where Engeneum's solutions are used to improve efficiency and support homeworking.
The April 2021 edition of Open Access Government speaks about government policy issues globally, like COVID-19, health & social care, research & innovation, finance, digital transformation, agriculture, environment, and energy.
You can see our article plus much, much more by clicking here: OAG30 Engeneum
Link to OAG website. https://www.openaccessgovernment.org/