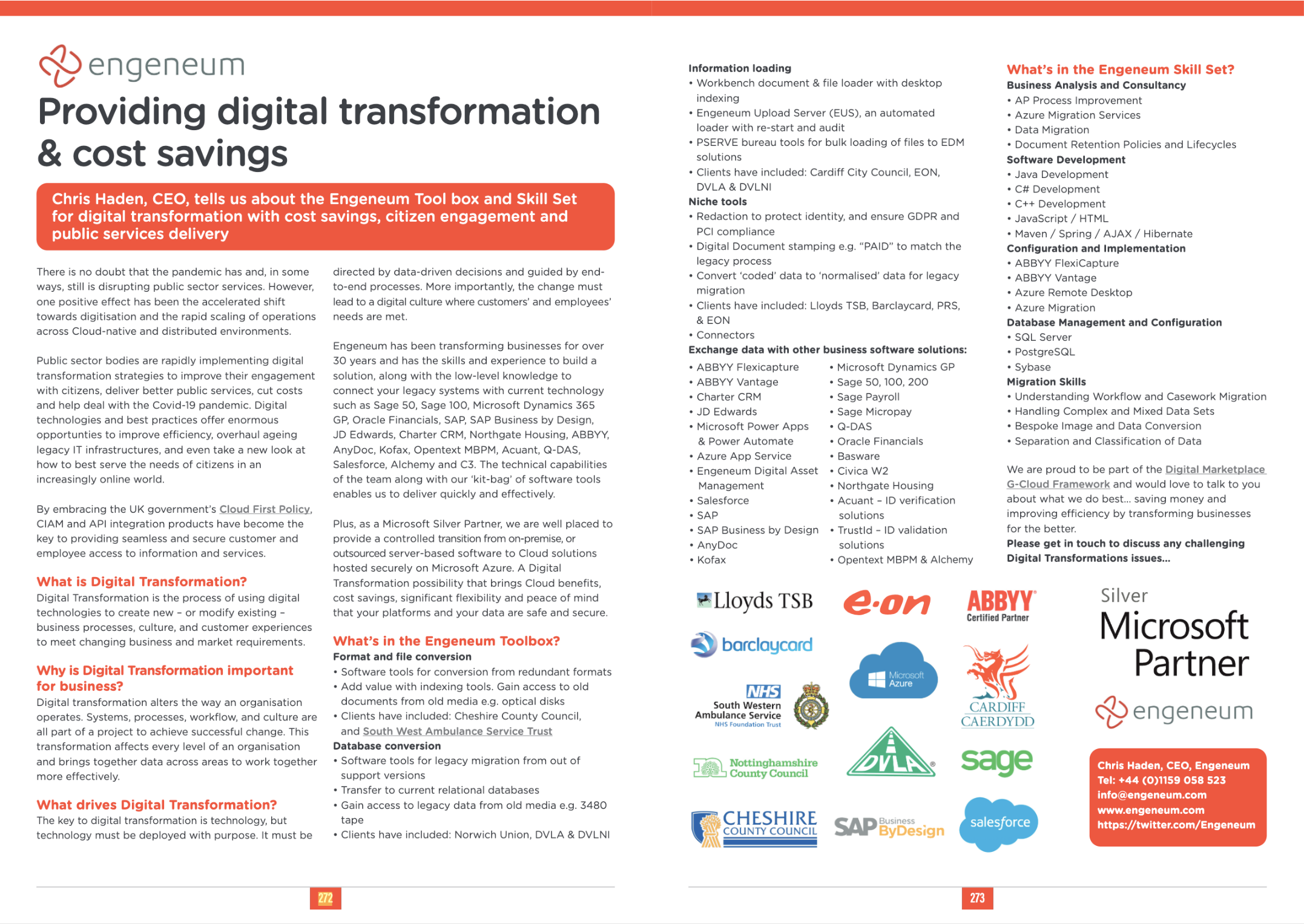 We are proud to be featured in the Spring edition of the Open Access Government (OAG) publication.
OAG is a digital publication that provides an in-depth perspective on key public policy areas from all around the world, including health and social care, COVID-19, research and innovation, technology, government, environment and energy.
Each quarterly edition features a wide range of prestige contributors, including government ministers, European commissioners, members of European Parliament, industry associations and charities.
In this feature Chris Haden, CEO, tells us about the Engeneum Tool box and Skill Set providing digital transformation and cost savings.
Engeneum has been transforming businesses for over 30 years and has the skills and experience to build a solution, along with the low-level knowledge to connect your legacy systems with current technology such as Sage 50, Sage 100, Microsoft Dynamics 365 GP, Oracle Financials, SAP, SAP Business by Design, JD Edwards, Charter CRM, Northgate Housing, ABBYY, AnyDoc, Kofax, Opentext MBPM, Acuant, Q-DAS, Salesforce, Alchemy and C3. The technical capabilities of the team along with our 'kit-bag' of software tools enables us to deliver quickly and effectively. Plus, as a Microsoft Silver Partner, we are well placed to provide a controlled transition from on-premise, or outsourced server-based software to Cloud solutions hosted securely on Microsoft Azure. A Digital Transformation possibility that brings Cloud benefits, cost savings, significant flexibility and peace of mind that your platforms and your data are safe and secure.
You can read the full article HERE.